Campus Life
Art and Science in the Park
The closeness of the institutions to each other, their setting in a beautiful park landscape and the availability of different places to eat, numerous guest houses, a day care center and a science library provide a high quality of life and working environment for the circa 3,000 employees. The Campus with its sculpture park, exhibitions and a small museum is a place where science and art converge.
Campus Berlin-Buch is particularly committed to the health of campus employees. Since 2016, with the support of Techniker Krankenkasse, all research institutions and over ten companies on campus have been operating a joint company health management system. Under the name CampusVital, we offer campus employees a wide range of opportunities for sports activities and exercise, attractive courses as well as health days and coaching sessions near their workplaces.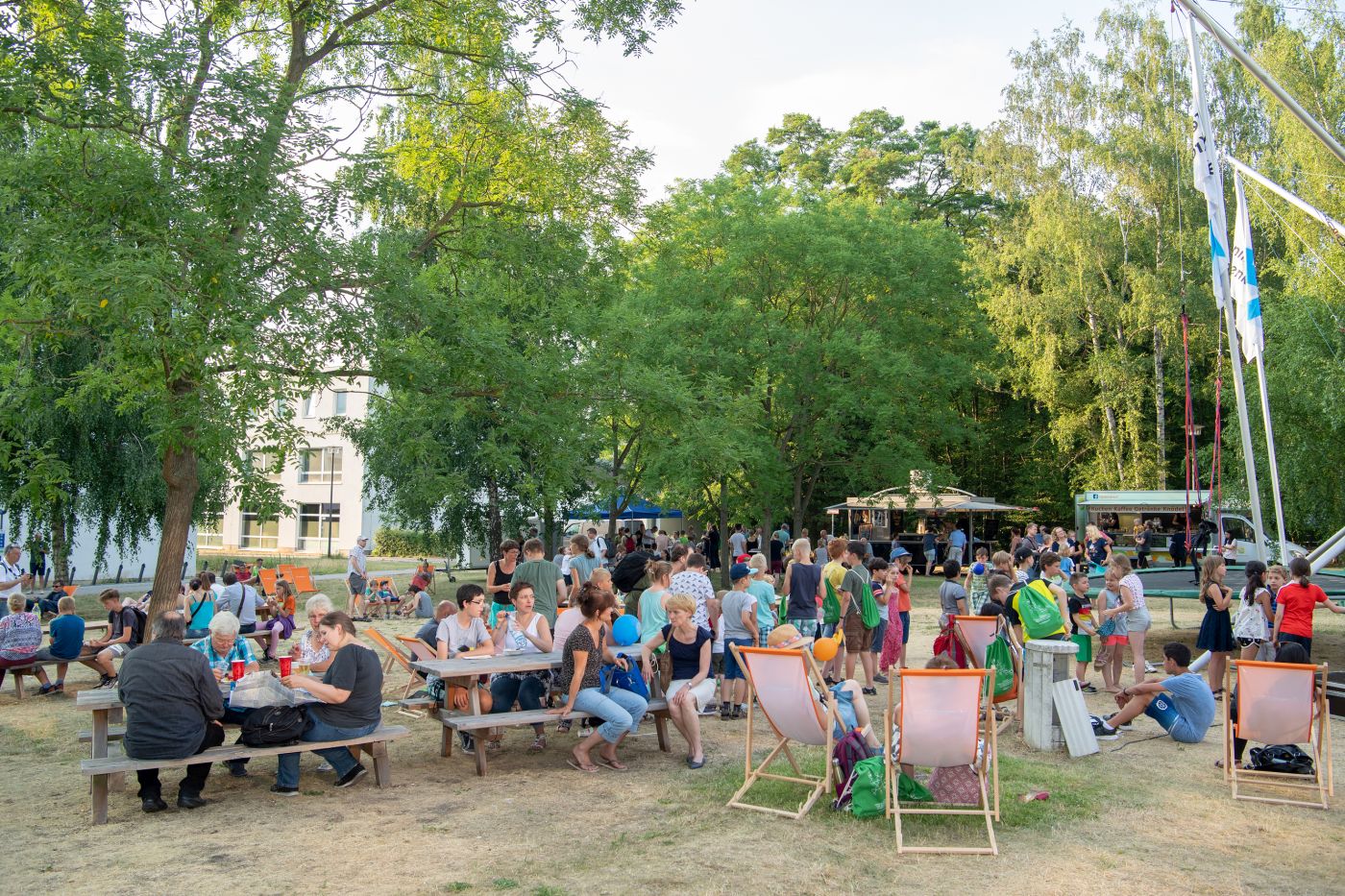 A modern communication center with integrated laboratories on campus offers diverse opportunities for scientific exchange and is an ideal venue for active social discourse. The Life Science Learning Lab, a non-school learning center consisting of five labs in a heritage-listed building, offers experimental courses on genetics, neurobiology, cell biology, ecology, chemistry and physics for secondary school students and the general public.
Thousands of visitors come to the Campus each spring for the "Long Night of the Sciences". There they can gain insight into the life sciences and medicine in an entertaining way by participating in hands-on courses, taking lab tours, watching experimental shows and by visiting information stands.
The campus day care center CampusSterne offers care in mixed-age groups for 58 children from 0 to 6 years of age. The educational concept includes English and science for toddlers and preschoolers. The day care center is run by the Sehstern Association.
With events such as Campus Cinema under the Campus Sky, scientific and scientific-historical symposia as well as concerts and artistic events, readings, guided tours, and various sport events, the Society of Friends of the MDC promotes an active campus life and fosters an open, inviting campus at the health location Berlin-Buch.
The quick access to the cultural life of Berlin and the proximity to the lakes and forests of the Barnim Nature Park offer numerous opportunities for leisure and recreation, thus making the Campus as part of the health location Berlin-Buch one of the most attractive and active locations in Germany's capital city.